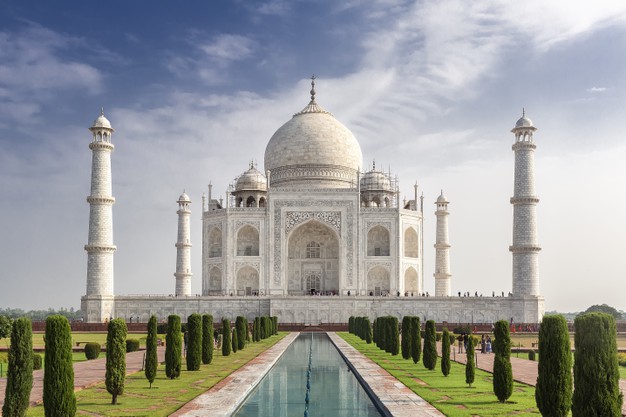 Agra: Tajmahal, just opened after the Corona lock down, the number of visitors were extremely good in the month of January. But was in-sufficient from September to December of last year. However, as soon as Tajmahal opened after Kovid-19, conservation work started in order to avoid the inconvenience caused to the tourists. And for their betterment, many projects will be completed inside it in the days to come. Some projects suffered due to corona lockdown which are now being completed. Soon, it will have Public address system too inside it so that tourists can share any information or any event all-together.
Vasant Swarnakar, Superintendent, Archaeological Survey of India says that Taj Mahal will have a public address system soon. With this system we will be able to inform everyone altogether in need of any event or emergency. Actually, there will be speakers, installed at different locations inside the Taj Mahal with a control room to operate all these activities. He further said that, this type of system will be the first in any of the monuments in India and this facility will be effective from the month of March smoothly.
Taj Mahal was opened on 21 September
It was observed the purses of the people are lost every day at Taj Mahal, which the tourists collect them later on from control room after wandering for hours. The children of visiting tourists are also lost here and there. These public address systems will be installed to overcome all these problems. Actually, the Taj Mahal was closed on March 17 last year due to Kovid-19 and re-opened on 21 September after more than 180 days.
If we look at statistics, a total of 17,007 tourists visited the Taj Mahal, post Kovid-19, after re- opening in September, out of which 16,878 Indians and 129 foreign tourists.
There were around 71,209 tourists in the month of October, if we talk about the Indians, there were around 70,618 and 519 foreign tourists. Whereas, in November, the number of tourists surged to 83,345, out of which there were around 82,624 Indian tourists and 721 foreign tourists. In December, there were around 1,27,071 tourists reported with 1,26,133 Indians and 938 foreigners.
More than 2.50 lakh Indian tourists visited in January
It is appreciable that the beginning of this year has been very good for the Taj Mahal as more than 2.50 lakh Indian tourists visited in the month of January, while 1,380 foreign tourists. According to the officials working in the Taj Mahal, the number of tourists is improving day by day, while on Saturday and Sunday, the number increases compared to other days. Most of the foreign tourists visiting the Taj Mahal, are either connected to the Embassy or working in India based company.
According to shop owners around the Taj Mahal ,though shops opened and anyhow, the business is going on , but they will not be comfortable till foreign tourists come. Also due to network problems, tourists are also facing difficulties in online ticket booking.
Presently 464 photographers are here in Taj Mahal
Syed Munnwar Ali, Chairman of the National Monument Security Committee, said that all around 200 shops are at the Taj Mahal, including handlooms, restaurants etc.and they have got relief after opening it, but the bussiness is not as good as earlier. On the other hand, the photographers and tourist guides present in the Taj Mahal are also happy after opening it but their work is unsatisfactory. There are 464 licensed photographers at this place but they are working slot wise i.e. 232 photographers come on one day and the rest on next day.
Kishan Gopal Kushwaha, a member of the Archaeological Memorial Photographers Association of India,said that we were all forced to sit at home as everything was closed during the Corona period. Though the Taj Mahal has opened, yet it has not influenced our work to that extent. Most of the tourist have expensive phones with high resolution camera, due to which we do not click photos. He further said that these phones should be switched off due to security reasons as tourists start performing live pictures from inside the Taj Mahal.
Tourist guides upset over non transit of foreigners
Tourist guides are also upset in absence of foreign tourists and the Indian tourists are coming from the range of 100 km. Tourist guide Jamil Ur Rehman, standing outside the Taj Mahal, said that due to this reason they do not need a guide. At present most of the tourists are facing the problems of internet connectivity in Taj Mahal, for which, the officials are working to resolve the issues and subsiquently the tourists will also get rid of it.